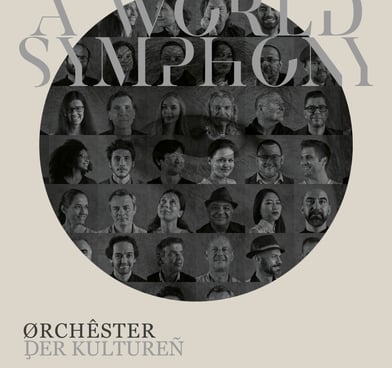 A WORLD SYMPHONY
The release concert for the CD.
With this program the "Orchestra of Cultures" gives us an overview of its first ten years and at the same time an outlook on the future. Sacred works like the "Ave Verum" by Wolfgang Amadeus Mozart in an extraordinary arrangement by Adrian Werum are juxtaposed with cross-cultural symphonic pop songs like "Sonbahar" and "Für mein neues Vaterland". Tenor Jay Alexander, who has lent his voice to the orchestra for many years, sets new artistic accents with Robert Schumann's "Im wunderschönen Monat Mai."
But Abeer Nehme, one of the most beautiful voices of the contemporary Orient, is also part of this world tour, as are Mohammad Habbal and the Philharmonia Chor Stuttgart with their fusion of the Arabic hymn "Mouteni" and Ludwig van Beethoven's "Ode to Joy."
"Recorded in the Kleine Audiowelt Heidelberg and in the Hans Rosbaud Studios of the SWR in Baden-Baden, mastered by Christoph Stickel in Vienna, we were united on this CD - recording technology and art as we always imagined," says Adrian Werum.
CONTENTS:
Kon-Tiki - Ave Verum - Sonbahar - Mawtini- La Flor y la Duda - Mongolian Horse Race - Spiri of One - My Fatherland - In the Beautiful Month of May and many more.
With: the Philharmonia - Choir Stuttgart
In the wonderful acoustics of the Beethoven Hall of the Stuttgart Liederhalle.