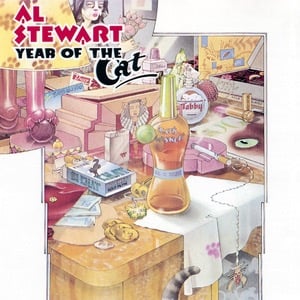 Whygold's Weekend...
under this motto I present you my music tip for the weekend. Maybe one or the other will discover something new. In my opinion, listening to music consciously is as important as reading a good book.
Today: Al Stewart - Year of the Cat
https://music.youtube.com/playlist?list=OLAK5uy_lv72Nzo36_9hfyuP9CeFZAZmwaNWGGM78
Al Stewart (born September 5, 1945 in Glasgow) is a British singer-songwriter. His most famous song is Year of the Cat, released in 1976.
Al Stewart's father died in a plane crash before his son was born.[1] He moved with his mother to Bournemouth in southern England, where he attended school until 1962. During this time he learned to play guitar with Robert Fripp, which enabled him to perform as a member of several of his hometown bands.
Then he moved to London because the music scene was livelier there. There he was a regular club performer, covering Bob Dylan, his own tracks, and as announcer for performers like Paul Simon, whose roommate he was for a few months. In 1966 he got his first recording contract with Decca Records.
His first single, The Elf, sold less than 500 copies. He moved to Columbia Records, where he released his debut album in 1967. On Bedsitter Images Stewart provided studies of a mostly bourgeois milieu and personal stories. The follow-up LP Love Chronicles, a declaration of love to his girlfriend at the time, was voted folk album of the year by Melody Maker magazine. Like its predecessors, Stewart's third album, Zero She Flies, was produced by Roy Guest. Despite changing producers, Stewart remained committed to acoustic music on Orange, his fourth album. Commercial success was modest.
1973 saw the release of Stewart's first concept album, Past, Present & Future. The historical interest of the artist came to the fore. Inspired by the prophecies of Nostradamus, about whom the album contains a title of the same name, he dedicated a title to each decade of the 20th century that has passed to date. Even if the concept was not implemented in this form, Stewart endeavored to take a critical look at recent American and European history. After the first North American tour in 1974, he increasingly targeted the US market in the following years.
He debuted on the US hit parade in 1975 with the album Modern Times, produced by Alan Parsons. He was also responsible for the two most commercially successful albums that Stewart released: Year of the Cat (1976) and Time Passages (1978). The Year of the Cat album was very successful in Germany, Great Britain and the United States. Singles under the same titles reached the Top 40 in both the UK and US. Lower chart regions included songs such as On the Border, Song on the Radio and most recently Midnight Rocks from his 1980 album 24 carrots. Despite a clear focus on commercial success, there were also individual songs with historical themes on his best-selling albums.
In 2000, the amateur cellar master dealt with the subject of wine on another concept album called Down in the Cellar. Since his US label Miramar Records had to file for bankruptcy before publication, the CD was only released in Europe by EMI. The album was not a commercial success in either the US or Europe.
(Source: Wikipedia)
Today I chose Year of the Cat, Al Stewart's most famous album. Also shortlisted for me were Time Passages, the follow-up album, which like Year of the Cat was also produced by Alan Parsons, and Down in the Cellar.
Here is a note from the Chinese annual horoscope 2022:
February 1, 2022 marks the beginning of the year of the tiger, which in Chinese astrology symbolizes courage, assertiveness, self-confidence, a thirst for adventure and risk. In 2022, the sign of the zodiac is supported by the element of water, which in turn represents abundance and fertility. What that means? We can look forward to a positive year full of interesting opportunities.
With this in mind: Here's to a happy, happy and healthy New Year!
Have fun listening to the music!
Your Chris Weigold
P.S.: Maybe you can enjoy the listening pleasure together with a glass of wine from our "World Symphony Edition".