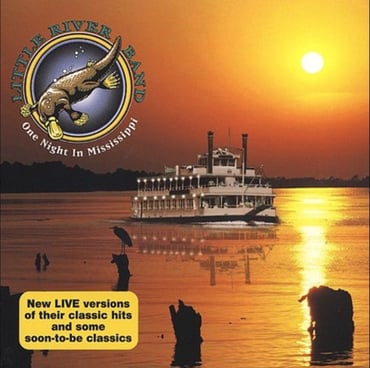 Whygold's Weekend
... under this motto I present you my music tip for the weekend. Maybe one or the other will discover something new. In my opinion, listening to music consciously is as important as reading a good book.
Today: Little River Band - One Night in Mississippi
https://music.youtube.com/playlist?list=OLAK5uy_kQwUdUqQhAhZErR_8YeNqdgTeqbFwL4-Q
The Little River Band is an Australian rock band. It was founded in Melbourne.
The group was formed in 1975 from the rock group Mississippi. Before that, Beeb Birtles was the bassist for '60s pop band Zoot and Glenn Shorrock was the lead singer for the group Axiom.
They had immediate success in Australia, but some band members had bigger aspirations. Like many other Australian groups, Mississippi and Axiom had tried in vain to break into the English record market. So they decided to focus on the English market in the new band.
A key factor in their eventual success was their manager Glenn Wheatley, who was bassist for Australian rock group The Masters Apprentices. Wheatley's experience of the 1960's music scene, combined with experience working in UK and US music management in the early 1970's, enabled him to help the band, the first Australian band to chart success in the US to become.
From 1978 to 1981, the Little River Band had six top 10 singles in the US with "Reminiscing", "Lady", "Lonesome Loser", "Cool Change", "The Night Owls" and "Take It Easy On Me". -Charts. During their career, the band has sold over 25 million records and has had 13 US Top 40 hits.
The Little River Band is considered one of Australia's most successful bands today. The original cast was inducted into the ARIA Hall of Fame in 2004.[1] In the 2010 comedy The slightly different cops, the song Reminiscing is used as one of the soundtracks.
The three founding members Glenn Shorrock, Graham Goble and Beeb Birtles continue to perform under the Birtles Shorrock Goble name.
(Source: Wikipedia)
A really beautifully produced live album with the Little River Band's old hits, partly newly arranged and instrumented.
Have fun listening to the music!
Your Chris Weigold
P.S.: Maybe you can enjoy the listening pleasure together with a glass of wine from our "World Symphony Edition".