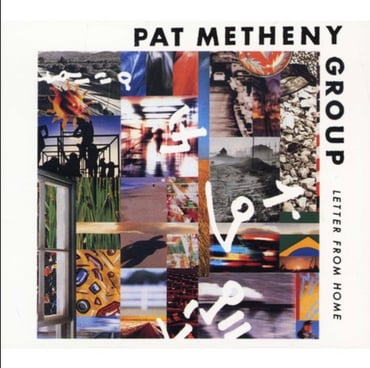 Whygold's Weekend...
... under this motto I present you my music tip for the weekend. Maybe one or the other will discover something new. In my opinion, listening to music consciously is as important as reading a good book.
Today: Pat Metheny Group - Letter from Home
https://music.youtube.com/playlist?list=OLAK5uy_m-eGh2dijfPFVEUbk-TnO9r5zHfbUeabg
Pat Metheny (born August 12, 1954 in Lee's Summit, Missouri; as Patrick Bruce Metheny, məˈθiːni) is an American jazz guitarist. As a solo artist, leader of various formations of his own and guest musician, he established himself as one of the most influential and successful jazz musicians in the world since the mid-1970s. In addition to his own playing, his work with the Pat Metheny Group, with which he succeeded in creating an independent ensemble sound, also influenced his style.
Metheny started playing the trumpet when he was eight. At the age of twelve, under the influence of Wes Montgomery, he switched to the guitar. At 14, he won a guitarist's competition sponsored by jazz magazine Down Beat and then took a course with teachers like Marian McPartland. By the age of 15 he was playing with the jazz greats of Kansas City. At 18, he became a guitar instructor at the University of Miami, and a year later at Berklee College of Music in Boston. Throughout his career, Metheny has played with jazz musicians Gary Burton, Jaco Pastorius, Herbie Hancock, Michael Brecker, Jack DeJohnette, Dave Holland, Ornette Coleman, Charlie Haden, John Scofield, Eberhard Weber and many others, but also with Joni Mitchell (1980 on Shadows and Light) and pop musicians such as Bruce Hornsby and David Bowie (This Is Not America from The Hawk and the Snowman).
Metheny has a special affinity for Brazilian musicians, so he is represented on recordings by Celia Vaz, Leila Pinheiro, Tulio Mourao, Toninho Horta, Ricardo Silveira and Milton Nascimento. In addition, he has significantly influenced or promoted the careers of some jazz musicians. He worked i.a. with Silje Nergaard, Noa and Anna Maria Jopek. Pat Metheny has received numerous awards for his achievements as a guitarist, composer and producer. Among other things, he received 20 Grammys - most recently in 2013 for his 2012 album Unity Band.
"Hardly any other guitarist has been able to set as many impulses over the decades as Pat Metheny, whose style initially stood for sound-oriented fusion, but who was able to work his way lightly into the areas of bebop, harmolodic, free jazz, hardcore and even ambient." [1]
His brother Mike Metheny (* 1949), who is five years his senior, is a flugelhorn player and music journalist. Metheny is married to the French-Moroccan photographer and gallery owner Latifa Metheny (Tria Gallery, New York City).[2] They have two sons and a daughter. Pat Metheny's compositions and improvisations are extraordinarily melodic. However, it is difficult to categorize them. His recordings and projects show a wide variety of styles, starting with film music and the dense and well-arranged recordings of the Pat Metheny Group, through classic trio jazz standard recordings to highly experimental recordings and free jazz (e.g. on the 1985 album Song X with Ornette Coleman and most notably in 2002 on the album Sign of 4 with Derek Bailey).
Metheny plays a variety of guitars, some of which are unusual, on his recordings and in concert, including his 42-string Picasso guitar. He has also frequently used guitar synths since the Pat Metheny Group's 1981 album Offramp. In his honor, guitar manufacturer Ibanez released the PM line of signature guitars.
From 1978 to 2005 there was the Pat Metheny Group, which Metheny founded together with Lyle Mays (1953-2020) on keyboards. The original line-up included bassist Mark Egan and drummer Danny Gottlieb. Since 1981 Steve Rodby has been a permanent member of the band as bassist and co-producer alongside Lyle Mays and Pat Metheny, which has used various guest musicians on its tours. In January 2005 the Pat Metheny Group released their last album The Way Up, a 68-minute, four-part suite by Metheny and Mays.
In 2010, the Pat Metheny Group performed several concerts in Europe with Mays as part of the Songbook Tour. Letter from Home is the sixth studio album by the Pat Metheny Group. It was released by Geffen Records in 1989. In 1990 the album won the Grammy Award for Best Jazz Fusion Performance. It was certified Gold by the RIAA on July 23, 1998. The album marked the return of Pedro Aznar, who became a member of the group on the album First Circle. It also featured a renewed emphasis on greater instrumental variety and was a major commercial success, comfortably entering the top 200 of Billboard magazine's albums chart.
"Slip Away" was , as Metheny put it, "extraordinarily successful, one of the most successful individual songs we've ever done". He said it contains an ideal melodic sustain. (Source: Wikipedia) I'm a big fan of Pat Metheny and his musical work. Luckily I was able to see him live. I even had a "Pat Metheny tribute band" for a short time in the late 90's. I particularly like the more commercial, pop-groovy songs and the ingenious melodies.
Have fun listening to the music!
Your Chris Weigold
P.S.: Maybe you can enjoy the listening pleasure together with a glass of wine from our "World Symphony Edition".