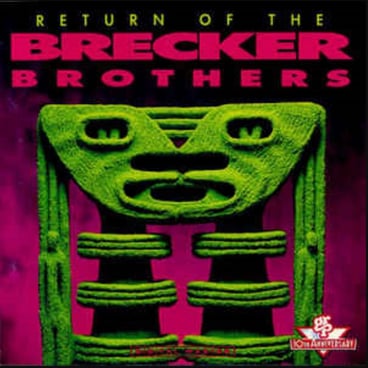 Whygold's Weekend...
under this motto I present you my music tip for the weekend. Maybe one or the other will discover something new. In my opinion, listening to music consciously is as important as reading a good book.
Today: Return Of The Brecker Brothers
https://music.youtube.com/playlist?list=OLAK5uy_leNp6OpozTGMLKYss_R4Aqnl4ipqb0dZ8
Brecker Brothers (also The Brecker Brothers or Brecker Bros.) was a fusion band led by brothers Michael Brecker (saxophone, flute, later also EWI) and Randy Brecker (trumpet, flugelhorn) and formed in the 1970s and early 1980s since 1975 years of recording commercially successful fusion albums. They had a hit with East River in 1979 which reached number 34 in the UK Singles Chart.[1]
She won a Grammy for her album Out of the Loop in 1995. Older brother Randy is best known as a founding member of the group Blood, Sweat & Tears.[3] He played on their debut album Child Is Father to the Man in 1968. Younger brother Michael came to New York in 1970, where he and his brother joined the jazz-rock band Dreams.
In the years that followed, the two brothers established themselves as a sought-after wind section for numerous studio productions in the field of rock and pop music due to their precise riffs. In 1974 Art Blakey brought both of them to his Jazz Messengers before they became independent in 1975 and released a "convincing record debut" with The Brecker Brothers. In the second half of the 1970s they were "one of the most successful funk jazz groups."[4] 1
In 992, the album The Return of the Brecker Brothers ushered in a short-term reunion. In addition to recording their own compositions, the brothers have often played together on albums and recordings by other artists, such as Todd Rundgren's hit Hello It's Me, the Parliament album Mothership Connection and the debut album by Japanese fusion band Casiopea.
The brothers also toured with Frank Zappa in the mid-1970s and appeared on his album Zappa in New York. Their collaboration ended in 2007 with the death of Michael Brecker, who died of leukemia. (Source: Wikipedia) The concert for this tour was one of the first concerts I attended when I started studying in Mainz. I can still remember it well.
It was 1993 in the KUZ. At this concert, bassist James Genus broke a string during a bass solo, but of course that didn't stop him from continuing to play. My favorite track is "Song for Barry", the very first track on the record, written by Michael Brecker. Brecker writes about this song: "A tribute to Barry Rogers' musical legacy, this tune is based on one of Barry's favorite horn motifs - which we frequently played together. It also contains a transcribed excerpt of Barry's trombone solo on "Un Dia Bonito" from Eddie Palmieri's album Sun of Latin Music. The bass line is an adaptation of a Guinean tribal theme."
Have fun listening to the music!
Your Chris Weigold
P.S.: Maybe you can enjoy the listening pleasure together with a glass of wine from our "Orchestra of Cultures Edition".