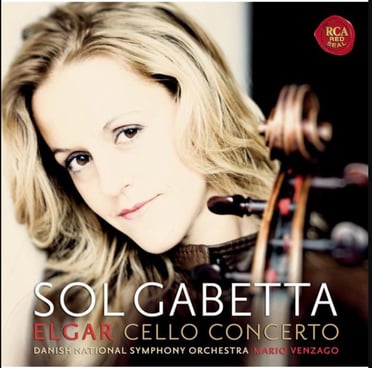 Whygold's Weekend...
under this motto I present you my music tip for the weekend. Maybe one or the other will discover something new. In my opinion, listening to music consciously is as important as reading a good book.
Today: Sol Gabetta - Elgar: Cello Concerto / Dvorak / Respighi
https://music.youtube.com/playlist?list=OLAK5uy_lrsD67bRvEiLTPZQeM5xteXZP01ig9nBQ
Sol Gabetta (born April 18, 1981 in Villa María, Argentina)
is an Argentine cellist. Sol Gabetta was born to Argentinian Andrés Gabetta and French pianist Irène Timacheff. Her mother had Russian parents who emigrated to France. Sol Gabetta has three siblings; her older brother Andrés (* 1976) is a violinist and artistic director of the Swiss Baroque Soloists. As a child, she amazed everyone with her musical talent. To the surprise of the jury, she sang the melody of an A minor violin concerto by Antonio Vivaldi during the entrance exam for a musical kindergarten. At the age of ten she won her first competition in Argentina.
Since then she has received various awards, including the Tchaikovsky Competition in Moscow, the Natalia Gutman Prize and the ECHO Klassik 2013. She became internationally known through a 3rd prize at the ARD International Music Competition in Munich in 1998. From 1992 to 1994 she received a scholarship at the private conservatory Escuela Superior de Música Reina Sofía by Paloma O'Shea in Madrid. She then began studying, first with Ivan Monighetti at the Basel Music Academy. She completed her university education with David Geringas at the Hanns Eisler Music Academy in Berlin with the concert exam.
Already during her studies she gave concerts with numerous orchestras and recorded a debut CD for Sony. She gained notoriety in 2004 when she made her debut at the Lucerne Festival as winner of the Crédit Suisse Young Artist Award with the Vienna Philharmonic under Valery Gergiev. Since October 2005 she has been teaching as Ivan Monighetti's assistant at the Music Academy in Basel. She is also the initiator of the SOLsberg chamber music festival in Olsberg, Switzerland. On her initiative, the baroque orchestra "Cappella Gabetta" was founded, which is conducted by her brother, the violinist Andrés Gabetta. This ensemble is primarily dedicated to programs from the Baroque and early Classic periods. In 2007 she was seen and heard as a soloist at the national holiday concert in Vienna.
Since April 2010 she has presented the Sunday music magazine KlickKlack on Bavarian television, alternating with Martin Grubinger. Pēteris Vasks dedicated the cello concerto "presence" to her in 2012. The premiere took place in October 2012 in Amsterdam. Gabetta was in a relationship with cultural manager Christoph Müller until 2014. Her repertoire includes all important works of cello literature, from the Beethoven sonatas to the Elgar concerto, from Vivaldi and Haydn concertos to contemporary music. Sol Gabetta played i.a. a Guadagnini cello from 1759, which was loaned to her by the Rahn Kulturfonds.
She currently plays a cello by Matteo Goffriller from 1730, Venice, on loan from Atelier Cels Paris. (Source: Wikipedia) A few years ago, when I was driving home late at night after a concert, I heard the Elgar Cello Concerto on the radio for the first time.
I liked this recording very much, and it is perhaps also thanks to Sol Gabetta and her cello playing that I didn't get tired on the drive and came home so relaxed. :-)
Have fun listening to the music!
Your Chris Weigold
P.S.: Maybe you can enjoy the listening pleasure together with a glass of wine from our "Orchestra of Cultures Edition".