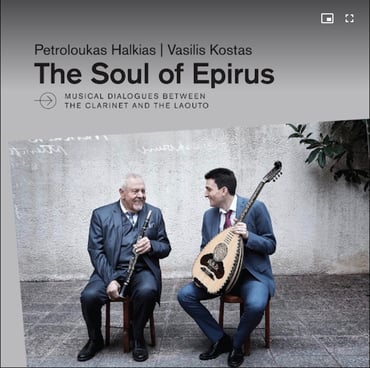 Whygold's Weekend
... under this motto I present you my music tip for the weekend. Maybe one or the other will discover something new. In my opinion, listening to music consciously is as important as reading a good book.
Today: Petroloukas Halkias / Vasilis Kostas - The Soul of Epirus
https://music.youtube.com/playlist?list=OLAK5uy_m0klHz5uk4BIA4VdnBysDq7LWj7FFCDQs
Petroloukas Halkias, born in Delvinaki, Greece in 1934, is a living legend of the clarinet and one of the most important representatives of Greek folk music of our time. He was born in the village of Delvinaki in Pogoni, Epirus, where he began studying music at an early age alongside the masters of the Epirote clarinet; Phillipas Rountas and Kitsos Harisiadis.
His father Periklis went to the United States of America before World War II and became very popular as a clarinetist. In 1960 Petroloukas Halkias emigrated to the United States, where he lived for 20 years, spreading the musical heritage of Epirus and performing with numerous different groups.
One of the highlights of his stay in the United States was being invited to a White House concert.
He returned to Greece in the 1980s when he started recording albums that achieved great success in Greece and abroad.
Petroloukas Halkias remains a source of inspiration for the young generation of musicians.
(Source: World Music Central)
This time my music research takes me to Greece.
I've owned a CD by Petroloukas Halkias for a long time, recorded in 1998 with a different cast. "The Soul of Epirus" is from 2019 and I like it very much. Very varied and virtuosic.
Maybe you'll eat some olives while listening to this recording?! :-)
Have fun listening to the music!
Your Chris Weigold
P.S.: Maybe you can enjoy the listening pleasure together with a glass of wine from our "World Symphony Edition".